Every business' technology requirement is different and unique. We, at iTool Solutions, support every unique requirement differently by offering custom application development services.
iTool Solutions has evolved a strategically defined process for Custom Application Development which ensures that end result is driven by high usability, scalability, performance & quality. All these factors are deeply integrated into the development process while taking into account the end user's requirements.
What is the process for Custom Application Development?
The Custom Application Development process includes following steps
Step 1. Gathering Business Requirement
We deploy a team of business analysts and industry experts to
• understand the business model,
• perceive the business objectives, and
• gather the requirements in detail.
We work closely with key stakeholders and user teams to envisage the right solution which meets the unique requirements of your business.
Based on the understanding developed during the Step 1 i.e. gathering the business requirements, our business analysts recommend the best way forward.
Step 2. Recommend a Plan
Once the requirements are captured in detail, our team of business analysts and product architects prepare a detailed project plan. This project plan includes details of the technology, project timelines, project team, external dependencies, if any and expectations from the client.
The most crucial aspect of this step is identifying the right technology to achieve the business requirements defined during the step 1.
Once this plan is approved by the client, the next crucial step is development.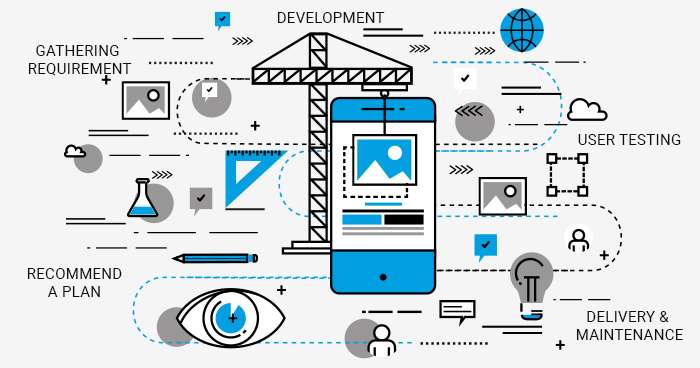 Step 3. Development
iTool Solutions provides application development services across technologies, platforms and verticals. The company has a team of expert developers across mobile platforms, web technologies and so on.
Based on the plan approved in Step 2 of this process, the development process is initiated. Agile methodology is integral to the development methodology at iTool Solutions.
Step 4. User Testing
Once the product development is completed, the product undergoes thorough testing. Though the agile methodology ensures there are no surprises observed during this step. But quality being one of the unique propositions of iTool Solutions, we ensure the product delivered to the client is fit-to-use and as per the requirements shared by the client.
Step 5. Delivery & Maintenance
Once the custom application is completed, it is delivered to the client. iTool Solutions offers AMC to its existing clients to ensure all the future upgrades and updates to the application are provided to the client.